What is same day dental crown (CEREC)?
CEREC stands for Chairside Economical Restoration of Esthetic Ceramics, or Ceramic REConstruction. This was invented by W. Mormann and M Brantestini at the University Of Zurich in the 1980s. This digital technology allows dentists to install ceramic restorations right at the point of treatment. That is why the technology has been named as "Chairside restoration."
No matter what material cap is used, CEREC provides a speedy and comfortable treatment without using an impression tray and with a single injection!
CEREC includes a three-step natural restoration.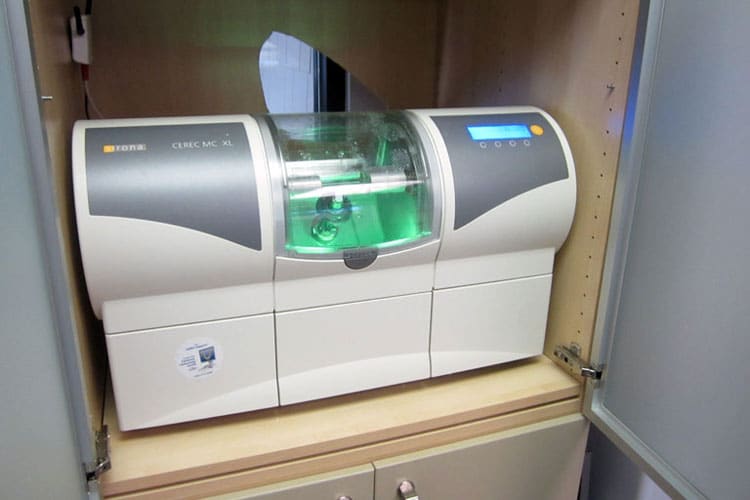 Step 1: Scan
A CEREC Omnicam is used to take vivid and clear 3D images of the damaged tooth in its natural color. Next, they use Open Scan Export to bring the scanned files as STL files.
Step 2: Design
After completing the scan, the CEREC software generates a proposal model of the patient's tooth situation. The dentist then sends this design via wireless media to a milling machine.
Step 3: Produce
The CEREC grinding/milling machine and the CEREC software are optically matched. Based on the design received, a restoration is prepared. This has the exact curves and fine fissures.
Why does a person need same day tooth restoration?
Going around with broken or damaged enamel is painful. Moreover, the advanced CEREC technology allows replicating the exact tooth shape, size, color and texture.
A dental crown is necessary for-
It protects a weak tooth from breaking or to hold together the disintegrated parts of a broken tooth.
It offers an immediate cover for a severely discolored tooth.
It also covers a dental implant that looks ugly.
Want the Same Day Dental Crown (CEREC)? Visit Robert Don Dentistry Today!
Gaps between teeth and half damaged teeth might require tooth caps or crowns. These are fixed prosthetic devices that are installed on to existing teeth or dental implants. There are several types of crowns to choose from including porcelain, ceramic, stainless steel or resin.
But, most dental clinics require a minimum of two appointments to get the crown or cap installed with proper dental alignment. Robert Don Dentistry in Irvine has recently introduced same day dental crown (CEREC), saving you from another weeklong embarrassment and pain.
Before going forward with the process, you can know a little more about this digital dentistry that allows same day restoration.
Why is Robert Don Dentistry the best for same day dental crown (CEREC) in Orange County?
Dr. Don has successfully set up one of the best dental clinic in Irvine, Orange County offering patients the most advanced dental care. Their years of professional experience have helped them to reach a standard of excellence. In addition to medical practices, they are always on the look out to improve themselves by attending and organizing dental lectures and meetings.
Robert Don Dentistry also provides routine dental checkup, flossing, sealants, cleanings to prevent dental decay and diseases.
If you are looking for the same day dental crown in Irvine, California, Contact Dr. Robert Don Office.